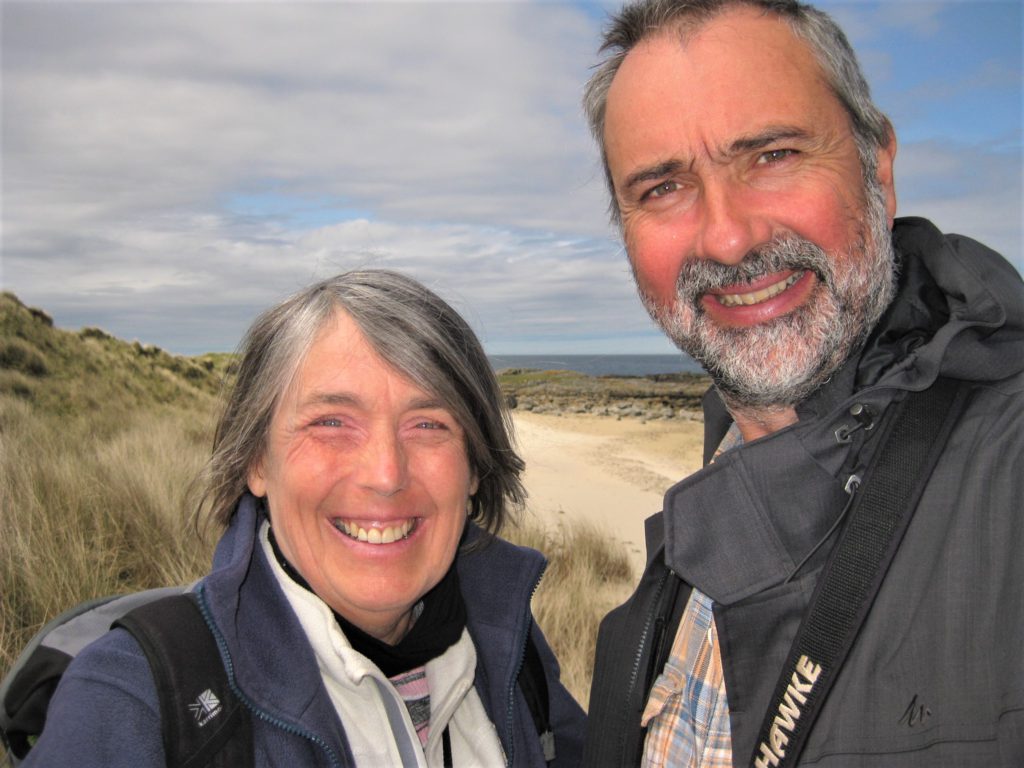 About WildSmiths
Wildsmiths are husband and wife team Greg and Sarah Smith.
Our purpose is:
To inspire, enthuse and educate visitors to the Scottish island of Coll about its outstanding wildlife, natural beauty and archaeology
To develop and share with visitors to the isle, our expertise and passion for the amazing range of natural and cultural wonders on Coll.
There are three elements to the services we offer:
A daily guided wildlife walk for small groups, lasting around two hours
A bespoke half-day or full-day guiding service for individuals or small groups with a particular interest or ambition
One-off events (including moth trapping sessions, wildlife talks, dawn-chorus walks etc)
For more information about the services we offer, see here.
About Us
Greg Smith has degrees in philosophy/linguistics and natural sciences. For 30 years he was a full member of the Chartered Institute of Ecology and Environmental Management.
Greg has had a 35-year career in wildlife conservation. Until November 2019, he was a senior leader in Natural England, the Government's statutory conservation advisers in England responsible for the protection, regulation and management of the natural environment and its public access/enjoyment.
He has also spent the last ten years running a voluntary not for profit organisation inspiring and enthusing his local community to value and celebrate the wildlife on their doorstep on the Essex coast (Wivenhoe Watching Wildlife).
Sarah Smith is a qualified primary school teacher, with a degree in archaeology and professional experience as an archaeologist.
She has a Masters degree in contemporary art and is an artist who works with natural materials, inspired by natural places and cultural artefacts/heritage.
We never go anywhere without Reggie the Renault, our trusty campervan. Look out for his black livery with pink flowers when you're on the island!
Other Useful Information
We both hold clean certificated registrations with Essex County Council's enhanced Disclosure and Barring Service (eDBS) (which means we are able to demonstrate that we have no criminal record including spent and unspent convictions, cautions, reprimands and final warnings).
We hold public liability insurance with Covea Insurance (Policy no: BAC00000031838).
We are both trained and certificated outdoor activity first aiders (Certificate nos: 2308998/2309004 03/12/2019).